Enactus To Host Free Business Seminars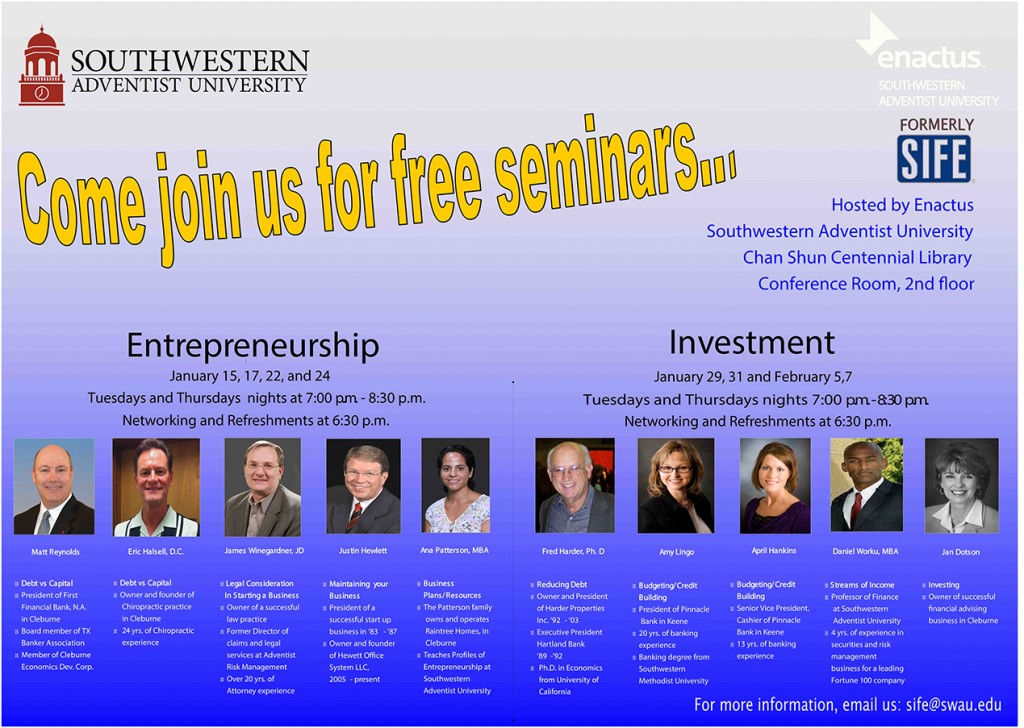 Southwestern's ENACTUS/SIFE team will host free entrepreneurship and investment seminars in January. The entrepreneurship seminars are Jan. 15, 17, 22, and 24 on Tuesdays and Thursday nights from 7 to 8:30. Refreshments and networking will begin at 6:30 p.m.
The investments seminars are Jan. 29, 31 as well as Feb. 5 and 7 on Tuesdays and Thursday nights 7 to 8:30. There will also be refreshments and networking at 6:30 p.m.
These seminars are free and open to anyone, but the main purpose of these seminars is to help people who want to start their own business or invest. The seminars will take place in the Chan Shun Centennial Library on the second floor in the conference room.
For more information, contact ENACTUS at sife@swau.edu.
A new $9,000 scholarship opportunity at Southwestern is intended to motivate students to delve into the Bible.  About 250 Bible verses have been selected for students to memorize.  A "Bible
Have you ever wanted to showcase your creative writing skills and win some cash for it? Well Southwestern's annual Creative Writing Contest is your opportunity to do so.  Southwestern's Rough