Enactus To Host Free Business Seminars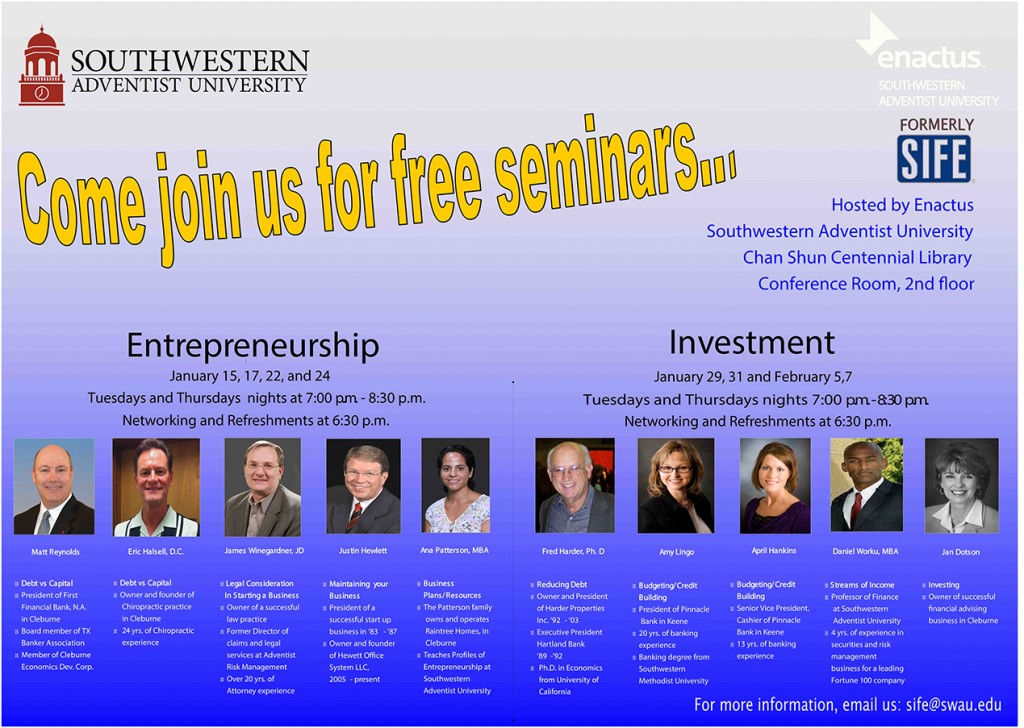 Southwestern's ENACTUS/SIFE team will host free entrepreneurship and investment seminars in January. The entrepreneurship seminars are Jan. 15, 17, 22, and 24 on Tuesdays and Thursday nights from 7 to 8:30. Refreshments and networking will begin at 6:30 p.m.
The investments seminars are Jan. 29, 31 as well as Feb. 5 and 7 on Tuesdays and Thursday nights 7 to 8:30. There will also be refreshments and networking at 6:30 p.m.
These seminars are free and open to anyone, but the main purpose of these seminars is to help people who want to start their own business or invest. The seminars will take place in the Chan Shun Centennial Library on the second floor in the conference room.
For more information, contact ENACTUS at sife@swau.edu.
Registration for Spring semester at Southwestern is open to students. Returning students may register at portal.swau.edu. New students may apply for Southwestern at http://www.swau.edu/. The first step is to meet with an
Election speeches will be held tonight at 7 in Evans Auditorium. This is the chance for students to meet the new prospective SA officers for next year and hear what they have
Southwestern Adventist University will be taking its students to Zero Gravity Thrill Park in Dallas on Saturday, Oct. 23. Buses will leave from the library parking lot at 7:15 p.m.