Deadline Nears for Colombia Mission Trip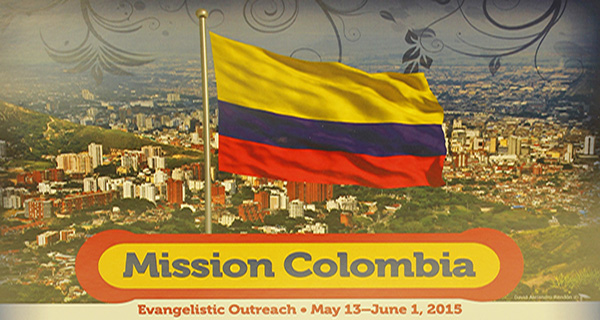 Students from Southwestern Adventist University will join Southwestern Union and Share Him this summer for a mission to Cali, Colombia. Students on this mission trip will be conducting an evangelistic series in a church in the city of Cali.
Students who preach for the series will find the sermons already prepared for them. Students who go on the mission trip and return for fall semester will receive up to a $2,500 scholarship.
Mission trips are a great way to visit new places and share the word of God. In addition, mission trips help students get to know God even better.
"It's always great for students to go on a mission trip," says Dr. Jorge Rico, chair of the religion department at Southwestern. "Mission trips get students excited about sharing the Message with people who don't know God. This leads students to want to do more evangelism at home. Students who go on mission trips also come back humbled when they see some of the living conditions where people in other countries live."
Those going on the mission trip to Colombia will need to raise $1,500 to cover airfare, hotel, meals, and a Columbian excursion. That may seem like a lot of money for a college student to raise, but Rico shares some ways to fundraise for the trip.
"We have some letters that students can send out asking for donations," says Rico. "These letters say what the donations are for and what we plan to do there. Most people respond to these letters because they know mission trips are a positive experience for students. When we went to the Philippines mission trip, almost all the students paid their way using these letters."
Santiago de Cali is the third biggest city in Colombia with about two million residents. It is the only city other than Bogota to have major access to the Pacific coast, and it is the main urban and economic center for western Colombia.
"People in Cali are very friendly and receptive to foreigners," says Rico. "Students going on the mission trip will be exposed to a different lifestyle and will try different foods. But they will also see how church members get excited about evangelism and spreading God's message."
That doesn't mean that the mission trip won't bring its own challenges for those who go.
"Even though Catholicism is big in Colombia, the biggest challenge in Cali will be music," says Rico. "Cali is known as the party city for Salsa, which is a style of music they listen and dance to. For students going, it will be harder to convert someone that likes salsa to Christianity than for someone who is a Catholic."
"This mission trip will be a great blessing for Cali," says Rico. "New churches will be established around the city and new members will join established churches. This mission trip will transform people's lives for the better."
Anyone who will want to go on this mission trip will need to make a first deposit of $200 by Feb. 20 to hold their spot. Students who have paid the $200 have until Feb. 26 to confirm their attendance for the trip.
"There has been a good show of interest in the trip," says Rico. "However, our Southwestern Union contacted me to ask me to limit the number of students to 20 participants. Thus, we need to know who is going in order to prepare scholarships for the first 20 participants. Perhaps, those who make their first deposit by Feb. 20 will receive higher consideration. One person has already paid for his entire trip. So, I want to encourage the next 19 to make their deposit as soon as possible."
For more information on this mission trip, contact Dr. Jorge Rico at ext. 6400.
People preparing for the GMAT test are invited to a free workshop hosted by the business department at Southwestern Adventist University. It is intended to provide MBA program applicants with
Campus Services will provide transportation to the airport for students traveling over Thanksgiving break. Students must sign up at least 24 hours before they need to leave. Shuttles are available
The "American College of Sports Medicine (ACSM) Health Fitness Instructor" is a class at Southwestern Adventist University where ten students are learning to administer health-related fitness tests, and prescribe an