With Move, Communication Department Adds Ideas, Technology to Center of Campus
As part of the on-campus movement related to the arrival of the new Administration and Nursing Building, Southwestern's communication department moved across campus into Pechero Hall as of this semester. It's the first time in its 45-year history that communication has been located in the center of campus.
Today, the approximately 30 percent of Pechero Hall dedicated to the communication program provides it with the space needed to house new classrooms, an office suite and its three new industry-standard, state-of-the-arts editing suites.
In addition, radio station 88.3 KJRN The Journey will be moved from north campus into what is currently the nursing simulation center by early next year. The new building will be remodeled to fit three production studios and an on-air studio.
The department has come a long way since its founding in 1973 by Bob Mendenhall, the department's first professor and first chair. That same year Mendenhall began building the radio station, which went on the air on June 13, 1974.
Initially, many communication courses were taught by English department faculty, as Mendenhall was the only communication teacher. Students were given the choice of majoring in either broadcasting or mass media and the first two classes taught by Mendenhall were the history of broadcasting and radio/TV announcing. Classes were held in Heritage Hall and what is now the Hopps Museum and Welcome Center.
"My first day teaching I approached the door to the classroom and I thought to myself this might be fun. After that 50-minute class I knew teaching would be my calling." It was this calling that allowed Mendenhall to teach and inspire the 250 students that graduated under his tenure. Among those students was current department chair and radio station manager Mike Agee.
Working with Agee in the department today are published author and former editor Glen Robinson and award-winning film director and former actor Kyle Portbury. Each of them teaches a variety of communication courses.
"I enjoy having professors who are professionals in their field," says Agee. He believes it gives students insight on their future career fields and benefits the department.
These benefits often show themselves through student achievement. Many students are accepted into internships and jobs such as reporters, advertising executives, radio announcers, and film PAs.
2017 journalism graduate Saul Flores is a reporter for the Desert Star in Needles, California, made partially possible by the many articles he published while a student at Southwestern. 2018 Graduate Tonya Soria was credited as a producer in a documentary sponsored by the Hope Channel on the SWAU's dinosaur research project. Many students also make a name for themselves by entering projects into film festivals such as Sonscreen and Shutter Speed. Shane Miosi '18 was invited to show his film "100% Match" at the Rockport Film Festival. In 2017 a short film "The Prepper," a project by that year's film class, was nominated in Sonscreen for best comedy short, best sound design, and best cinematography.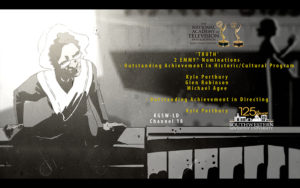 On Friday, Sept. 28, the department was nominated for an Emmy award for "Truth," which tells the story of women's rights activist and abolitionist Sojourner Truth and her extemporaneous speech delivered in 1851 at the Women's Convention in Akron, Ohio. In addition, Portbury received an Emmy nomination for outstanding achievement in directing. The Emmy Award is the highest honor in the television industry.
"We are extremely honored to receive an Emmy nomination for 'Truth,' says Portbury. "This nomination demonstrates the film's capacity to continue the conversation Sojourner began 167 years ago. It's a conversation as relevant today as it was in 1851."
During Agee's five years as chair the department has steadily grown from 11 to 28 students. When asked about the department's future, Agee says he is "excited by the growth that has happened and will continue to happen."
The Southwestern Biology Club will host a MCAT (Medical College Admission Test) Panel Discussion on Feb. 8.  The discussion will feature three students who already took the MCAT, who will
(Edited By Saul Flores and Angela Mangueira) Music plays a big part in today's society.  Life at Southwestern Adventist University is not exempt from this reality of life. Many of
The second annual Powder Puff Football games are Saturday night, Sept. 15. Southwestern students compete, class against class, to win the football championship. The catch: ladies play while men cheer