Southwestern Presents Godzilla Eats Las Vegas Musical
Southwestern Adventist University is proud to present Godzilla Eats Las Vegas: a Musical of the Atomic Age. The two-part event will feature South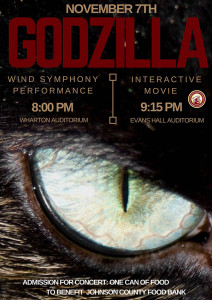 western Wind Symphony performance at 8 p.m. in Wharton Auditorium located on the corner of Magnolia Street and Old Betsy, and an interactive movie at 9 p.m. in Evans Hall located on the corner of Elm and E. Hillcrest.
Special performances for the event will feature: Timothy Stowell with "Flight of the Bumble Bee," a flute solo performed by Erika Martinez and Ryan De La Garza with "smooth." Dr. Steve Jones, professor of history at Southwestern Adventist University will uncover the little-known reasons why Godzilla gained such a celebrity status in the Atomic Age.
Admission for Godzilla Eats Las Vegas is one can of food to benefit Johnson County Food Bank.
Southwestern Adventist University will host "The Eagle Chained to the Rock: Napoleon and America," a talk presented by Dr. Jonathan Abel, associate professor at Tarrant County College Connect Campus on
The LIFE Sabbath school service meets every Saturday at 10 a.m. in Evans Hall Auditorium.  The acronym LIFE stands for "Living In Faith Everyday." Presenters for each topic are faculty
Southwestern Adventist University's computer science department, along with student services and student senators, planned and hosted a game night at Scales Hall on Saturday, April 9 during Senate Emphasis Week.