Southwestern Presents Godzilla Eats Las Vegas Musical
Southwestern Adventist University is proud to present Godzilla Eats Las Vegas: a Musical of the Atomic Age. The two-part event will feature South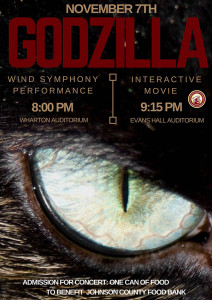 western Wind Symphony performance at 8 p.m. in Wharton Auditorium located on the corner of Magnolia Street and Old Betsy, and an interactive movie at 9 p.m. in Evans Hall located on the corner of Elm and E. Hillcrest.
Special performances for the event will feature: Timothy Stowell with "Flight of the Bumble Bee," a flute solo performed by Erika Martinez and Ryan De La Garza with "smooth." Dr. Steve Jones, professor of history at Southwestern Adventist University will uncover the little-known reasons why Godzilla gained such a celebrity status in the Atomic Age.
Admission for Godzilla Eats Las Vegas is one can of food to benefit Johnson County Food Bank.
In high school, Jae-Min Park felt he wanted to be a doctor but wasn't sure if it was the right career for him. His parents inspired him to study medicine.
Alumni, faculty, staff and families of Southwestern are invited to enjoy homemade ice cream with their former classmates, students, and teachers at Southwestern's Annual Ice Cream Social on Sunday, Sept.
Today's assembly is a focus group discussion on students' thoughts and feelings about Southwestern. Below is a list for assigned buildings. Note that there is a maximum group size of 15.