Southwestern Presents Godzilla Eats Las Vegas Musical
Southwestern Adventist University is proud to present Godzilla Eats Las Vegas: a Musical of the Atomic Age. The two-part event will feature South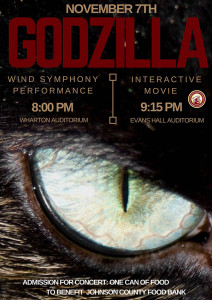 western Wind Symphony performance at 8 p.m. in Wharton Auditorium located on the corner of Magnolia Street and Old Betsy, and an interactive movie at 9 p.m. in Evans Hall located on the corner of Elm and E. Hillcrest.
Special performances for the event will feature: Timothy Stowell with "Flight of the Bumble Bee," a flute solo performed by Erika Martinez and Ryan De La Garza with "smooth." Dr. Steve Jones, professor of history at Southwestern Adventist University will uncover the little-known reasons why Godzilla gained such a celebrity status in the Atomic Age.
Admission for Godzilla Eats Las Vegas is one can of food to benefit Johnson County Food Bank.
Students who keep an eye on the academic calendar should know that department vespers is scheduled for Friday, Feb. 18. Here is an incomplete listing of departments and where and
James The now serves as Southwestern's new Dean of Students.
Intramurals at Southwestern Adventist University is tomorrow night: Thursday, Jan. 19, and Sunday, Jan. 22.  The game will be co-ed volleyball. All students are invited to gather a group of