Knights Club Sports This Week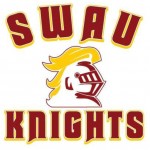 Lady Knights
Tuesday, Jan. 18            6 p.m.        Home game vs. Hillsdale Freewill Baptist College
Knights
Tuesday, Jan. 18            8 p.m.        Home game vs. Hillsdale Freewill Baptist College
Wednesday, Jan. 19    7 p.m.        Home game vs. El Centro College
Tuesday night games will feature the Texas Royal Pizza Shoot-out at halftime!
Southwestern's athletic teams are off and running this week, starting with away games on Tuesday. The volleyball team is playing Dallas Christian and leaving at 4:30 p.m. The ladies' soccer
Knights Club Sports schedule for week of November 8 – 11: Monday, Nov. 8, 7:30 p.m.           Knights at Eastfield College Wednesday, Nov. 10, 7:30 p.m.         Knights home vs. Brookhaven College Thursday, Nov.
Men's Soccer vs. Hills Dale Freewill Baptist 6 p.m. Volleyball vs. Cisco College 6:30 p.m. Both games are in Keene on Thursday, Aug. 30 Share this: