University Singers Tour Texas
Southwestern's University Singers is traveling Oct. 9-11 to perform in Austin, Weslaco, McAllen, Edinberg, and San Antonio.
The mini-tour began in Austin, at the state capitol rotunda this afternoon. Their lunch-time serenade was made possible through the sponsorship of Senator Bryan Birdwell. Tomorrow they will sing at Valley Grande Adventist Academy and continue with performances at the Iglesia Central Del Valle for the students of South Texas Christian Academy and the Edinberg Seventh-day Adventist Church. The singers will give their final performances on Saturday at Scenic Hills Church for morning worship and at St. Joseph's Church in San Antonio that evening at 7.
In order to prepare for the tour, the Singers met in the gymnasium's racquetball court Wednesday for a public rehearsal. According to Wall, the racquetball court simulates the acoustics the cathedrals and other venues provide. Students and faculty alike were encouraged to attend this sneak peak of the tour repertoire. University Singers member Javier Ogaz says, "It's really funny that the racquetball room has the best acoustics on campus. It also surprisingly holds a lot more people than you would think."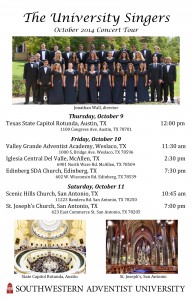 Wall enjoys preparing diverse programs that stimulate both the audience and the choir. He carefully selects music that ranges not only in language and style but also in time periods. The Singers current repertoire contains selections in English, French, German, Latin and Spanish.
"There are three elements that I believe are a part of every concert: education, worship, and community," says Wall. "The purpose of the choir is so that we can be evangelists through music wherever God takes us. It's an opportunity to share music and represent Southwestern and what we believe."
"It's really cool to get to travel with the choir," says University Singers member Robert Leslie. "It's a unique way to share God's message. We don't always sing for Adventist churches or academies so it's great to reach out to different denominations. I see it as an opportunity to reach people for Christ."
James The now serves as Southwestern's new Dean of Students.
Seagrass in the Caribbean will be the topic of a special presentation on Sunday, Aug. 19, hosted by Southwestern's Biology Department. The public is invited to a presentation by Dr.