SWAU Graduates Owe Less Than National Average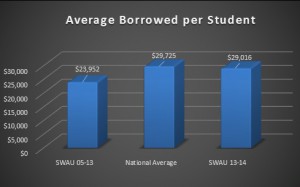 Southwestern Adventist University students are ending their schooling less in debt than the national average for University students. This is based on a recent report compiled by Dr. Tom Bunch, director of institutional research at the University.
The report showed that the average cumulative debt of Southwestern Adventist University graduates is less than graduates from other private nonprofit four-year universities.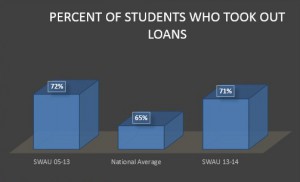 During an eight-year span, 65 percent of students nationwide took out loans to pay for their schooling. This compares to 72 percent of students at Southwestern Adventist University, which is seven percent higher.
Even though more students at Southwestern took out loans, the amount borrowed was less than the national average. SWAU students took out an average of $23,952, compared to $29,725, the amount borrowed at other private four-year universities. In the 2013-2014 school year, the greatest average amount borrowed by Southwestern students was $29,016, which is still less than the national average by $709.
What does borrowing less money in loans mean for students? In the eight-year span from 2005 thru 2013 Southwestern Adventist University students after receiving their bachelor's degree owed less than the national average and were more prepared to face the challenge of paying those loans back.
This semester, six small groups are meeting at different times and places all over Southwestern's campus. These small groups count as worship credit for dorm students. Passion & Purity: The
Intramurals at Southwestern Adventist University is tomorrow night: Thursday, Jan. 19, and Sunday, Jan. 22.  The game will be co-ed volleyball. All students are invited to gather a group of
Southwestern Adventist University will host its very first annual Service Day on Friday, April 6, 1 to 5 p.m. Students will be involved in reaching out and assisting with the