Service Day Scheduled for This Friday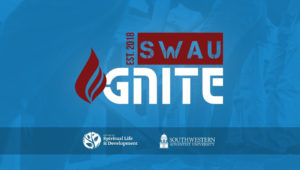 Southwestern Adventist University will host its second annual service day on Friday afternoon, March 29. Students will be going out in various groups to serve the community in Keene and throughout Johnson County.
One reason to have service day is to get students, faculty, and staff more involved in serving others within the community and outside our community. According to Samson Sembeba, senior theology major, the purpose of service day is to build the student-teacher relationship with each other so they can work together to serve the community. That is the heart of the gospel.
"I feel like there is a lot behind service day, because there is also an element that service softens the heart for the gospel," says Sembeba. "We're not only doing that for the community, but we're doing that for ourselves. When we do service work, we're softening our hearts for the gospel, and prepare our hearts to receive the gospel."
The new hours for The Counseling Center are the following: Monday-Wednesday: 9 to 12 p.m. and 1 to 5 p.m. Thursday: 9 to 12 p.m. and 2 to 5 p.m.
The Spiritual Life and Development office and the Student Missions Club will sponsor a pancake breakfast to raise funds for student missions on Sunday, April 14. The event will be
The annual Resurrection Pageant held on the campus of Southwestern University drew a record crowd despite the possibility of inclement weather. Andrew Welch, a former student played the role of