Mexican Shout Scheduled for Thursday
Southwestern's modern languages department is hosting "Mexican Shout," the second annual celebration of the independence of Latin American countries this Thursday. According to coordinator Roberto Valencia, assistant professor of modern languages, the event will feature authentic folkloric music and international food.
"Mexican Shout" is scheduled for Thursday, Sept. 16 from 6 to 8 p.m. in Evans Hall Auditorium. International students, or those who were born, raised or identify with a Latin American country are invited to dress in their national or typical attire. Tickets for the celebration are $3 and are available from Silvia Collins in administration. For more information, call Roberto Valencia at (817) 202-6278.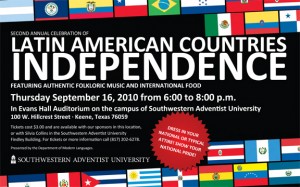 It's time to pull that poem or short story out of your desk drawer or off you laptop. It's Writing Competition Time again! This is the fifth year that the
Alex Bryan, senior pastor of the Walla Walla University Church, will speak for this week's assembly and Friday night worship at Southwestern. He will be presenting information on The One