Knights Sports This Week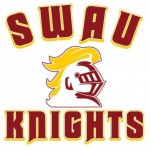 Knights Club Sports schedule for week of November 8 – 11:
Monday, Nov. 8, 7:30 p.m.           Knights at Eastfield College
Wednesday, Nov. 10, 7:30 p.m.         Knights home vs. Brookhaven College
Thursday, Nov. 11, 6 p.m.         Lady Knights home vs. Texas College
Remember: "Texas Royal Pizza Shoot-out" during half time of all home games.
Tonight will be the first opportunity in the 2011-2012 school year to see both men's and women's soccer teams for Southwestern on the field. Games begin at 6 p.m. with
Tuesday, Jan. 11, 6 p.m. Lady Knights Basketball vs. Northern New Mexico College in Keene Wednesday, Jan. 12, 7 p.m. Knights Basketball at Brookhaven College in Farmer's Branch Thursday, Jan.