Eight Communication Students To Attend SONscreen Film Festival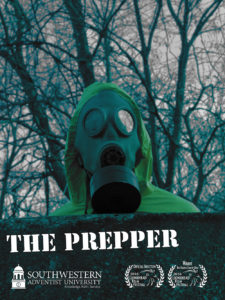 Eight communication students from Southwestern Adventist University will fly to Loma Linda University April 6-9 to be a part of the annual SONscreen Film Festival. SONscreen Film Festival is conducted by the North American Division of Seventh-day Adventists in various places across the nation each year to provide a way for Adventist college students who have a passion for making films. This will be the largest group from Southwestern to have ever attended the festival, with the assistance of a grant from the North American Division.
Kyle Portbury, professor of communication and an accomplished filmmaker himself, served as project manager for The Prepper as well as the main actor. He will be going to SONscreen with the eight students in April.
Two films have been submitted to the festival on behalf of Southwestern and will be in the competition for the comedy shorts category. The Prepper and 100% match are the two films that will be shown on behalf of the school. Students from the COMM 437 Film production class produced The Prepper, and Shane Miosi, a senior communication major, directed 100% match. Mioso was also script writer for The Prepper.
"Congratulations to the communications majors involved with The Prepper and 100% match," says Portbury. "It is truly an honor to work with such talented students."
The LIFE Sabbath school service meets every Saturday at 10 a.m. in Evans Hall Auditorium.  The acronym LIFE stands for "Living In Faith Everyday." Presenters for each topic are faculty
Susan Gardner, Susan Grady and Islem Mattey were named by Southwestern Adventist University as recipients of this year's Extra Mile Awards.
Small Bible study groups are a big part of Southwestern Adventist University's campus.  These groups give students a chance to interact with each other and talk about God.  Worship credit