Week of Prayer Begins on Monday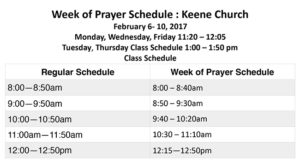 Southwestern's spring semester Week of Prayer starts on Monday, Feb. 6 and runs until Friday, Feb. 10.
Slight adjustment has been made in the usual school schedule to accommodate this special week. Classes will be 10 minutes shorter on Monday, Wednesday and Friday and continue as normal on Tuesday and Thursday.
Week of Prayer will meet 11:20 a.m. to 12:05 p.m., Monday, Wednesday, and Friday and at 1 p.m. to 1:50 p.m., Tuesday and Thursday. All meetings will be held in the Keene Seventh-day Adventist Church.
Seven students from the Homiletics class—Joe Tonga, William Soto, Michael Musante, Allan Hernandez, Herman Aguilar, Julian Escobedo, and Josh Ramirez—will speak during the week. Their theme will be unity as it corresponds with the fundamental beliefs of our faith. Each will speak on a topic related to one of those beliefs.
One person will present a topic each day except for Friday. Friday will feature a speaker in the morning and two speakers that night at vespers.
(reported jointly by Herman Aguilar, Jordan Greene, and Elanith Wong) The Southwestern Adventist University Singers are preparing for the premier of Latvian composer Erik Esenvalds' newest choral composition. The song
Graduation weekend at Southwestern Adventist University is scheduled for Friday, May 4 until Sunday, May 6. Friends and family are invited to help celebrate their graduate's journey. Seniors will receive
Spiritual weekend events will include vespers, afterglow, Sabbath School, church, inreach and evensong. Friday night worship will begin at 8 p.m. at the outdoor amphitheater in the center of campus.