Lady Knights Volleyball Schedule Oct. 25-29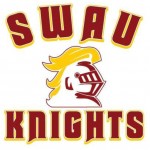 The Lady Knights volleyball team closes out their season with two home games:
Wednesday, Oct. 27, 7:30 p.m. vs.  Mountain View College
Thursday, Oct. 28, 7:30 p.m. vs. Southwest Christian College
Come cheer the Lady Knights to a winning season.
Adventist academies and high schools from all over the U.S. and Puerto Rico will take part next week in the 21st Annual Hoops Classic hosted by Southwestern Adventist University. This
Playoffs for Futsal and Floor Hockey intramurals will take place this week. Hockey playoff games are scheduled for Monday and Wednesday. Here is Monday's schedule: 7 p.m. – Nursing vs.