Purity Conference Set for Feb. 14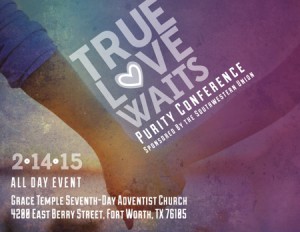 The True Love Waits Purity Conference, emphasizing abstinence, repentance and deliverance, is scheduled for Feb. 14 at Grace Temple Seventh-day Adventist Church in Fort Worth. Sponsored by the Southwestern Union Young Adult/Youth Department, the event is designed to address human sexuality from a Biblical perspective.
"This event will be used to empower youth with the Word of God so that the flesh can overcome this weakness and say no to temptation," says Suzanna Facundo, administrative secretary of Young Adult Ministries.
The Purity Conference will feature as its main speaker Helvis Moody, director of Youth Adult and Youth Ministries for the Southwestern Union Conference. Moody will discuss God's view on human sexuality and answer questions such as "Why did God make me this way?"
Three breakout sessions are scheduled for the afternoon including: "To Date or Not to Date: That is the Question," "Boundaries: (Up Close and Personal) LGBTQ" and "Don't Get Caught Up in the WEB." Each breakout session will feature its own assigned speaker.
The all-day True Love Waits Purity Conference is scheduled for Valentine's Day. Deadline to RSVP for the Conference is Feb. 7. Free lunch will be provided for all of the attendees who register.
Grace Temple Seventh-day Adventist Church is located at 4200 East Berry St. in Fort Worth. To RSVP for this event go to http://www.southwesternadventist.org/youth.
Students interested in being a part of Southwestern's nursing program are encouraged to attend a pre-nursing seminar. The seminar will be presented on Tuesday, Feb. 26, in Hagen Hall room
Spiritual weekend events will include vespers, afterglow, Sabbath School, church, inreach and evensong. Friday night worship will begin at 8 p.m. at the outdoor amphitheater in the center of campus.
Denielle Wilson of Atlanta Adventist Academy performs Suite No. 2 for Cello at Showcase Concert last night. The event marked the official beginning of the annual Music Festival, which draws