SA Seeks Candidates for Upcoming Election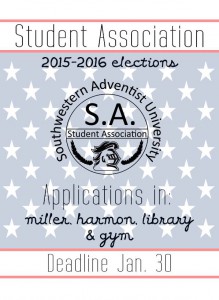 The current student association officers will be ending their year-long service to students at the end of this semester, and a new list of officers will begin their year in office.   To be elected, a student must first apply for election. Students can pick up one of these applications in: Miller Hall, Harmon Hall, Chan Shun Library, the gym, the student center or online.
To be considered for an elected office, a student must: (1) have attended Southwestern Adventist University for at least one semester, (2) have a GPA of 2.5 or higher, (3) be taking an academic load of eight hours or more, (4) be a student in good standing, (5) acquire 38 signatures from students and two from teachers, (6) agree to run a clean campaign.
Students are to turn in their application with the required signatures at student services in Findley Hall by Friday, Jan. 30.
The deadline to apply for the Navajo Mission Trip, which takes place over spring break, is this Wednesday, Dec. 7.  Students that attend the trip are taken to a Navajo
Seagrass in the Caribbean will be the topic of a special presentation on Sunday, Aug. 19, hosted by Southwestern's Biology Department. The public is invited to a presentation by Dr.
Southwestern's student association has two activities taking place this weekend. On Saturday at 8 p.m. karaoke will be held in the Scales Hall pit. Popcorn drinks, and prizes will be