Twelfth Night Opens Thursday at 8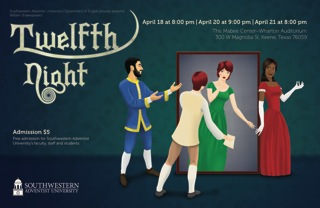 Southwestern Adventist University's English Department presents Shakespeare's Twelfth Night.
Directed by English Professor Renard Doneskey, with cast and support provided by Southwestern students and faculty, the play will be sure to entertain with its tangled web of egos, deception, and lovesick hilarity.
The play will be presented three times in Wharton Auditorium on the corner of Old Betsy and Magnolia Street:
Thursday, April 18 at 8 p.m.
Saturday, April 20 at 9 p.m.
Sunday, April 21 at 8 p.m.
Tickets are $5 and may be reserved by calling 817-202-6629. Tickets will also be available at the box office a half hour before the play begins.
"Many Faces of Romanticism" is a music recital featuring two of Southwestern Adventist University's own music department pianists, Ana Scarone and Rudyard Dennis.  The duo will perform tonight at 7
Southwestern Adventist University will be taking its students to Zero Gravity Thrill Park in Dallas on Saturday, Oct. 23. Buses will leave from the library parking lot at 7:15 p.m.
Michael Price, Emmy Award-winning composer of the hit BBC series Sherlock,  has been confirmed as one of the judges for the upcoming Brain Games 48-hour film challenge "South by Southwestern,"