Twelfth Night Opens Thursday at 8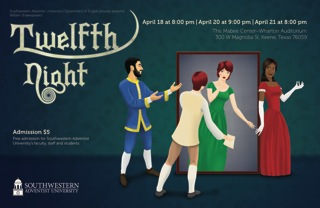 Southwestern Adventist University's English Department presents Shakespeare's Twelfth Night.
Directed by English Professor Renard Doneskey, with cast and support provided by Southwestern students and faculty, the play will be sure to entertain with its tangled web of egos, deception, and lovesick hilarity.
The play will be presented three times in Wharton Auditorium on the corner of Old Betsy and Magnolia Street:
Thursday, April 18 at 8 p.m.
Saturday, April 20 at 9 p.m.
Sunday, April 21 at 8 p.m.
Tickets are $5 and may be reserved by calling 817-202-6629. Tickets will also be available at the box office a half hour before the play begins.
School has hit the halfway point. With midterms around the corner it can seem like classes are impossible to get through. Luckily, there is tutoring to help students survive the
Steve Jones, professor of history and social science at Southwestern, does more than just fascinate students with his wisdom of all things war and history.  He is the new U.S.
Southwestern Adventist University's prayer meeting theme this semester is "Drink Deep."  Dwight Nelson, senior pastor of Pioneer Memorial Church at Andrews University in Berrien Springs, Michigan, will present the series