Enactus To Host Free Business Seminars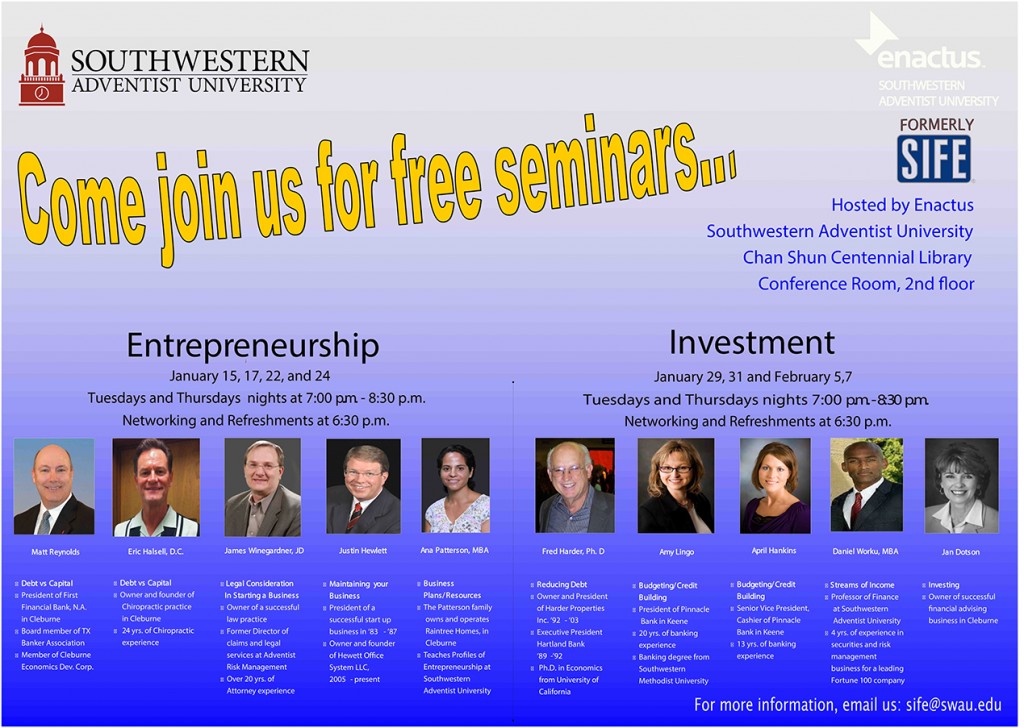 Southwestern's ENACTUS/SIFE team will host free entrepreneurship and investment seminars in January. The entrepreneurship seminars are Jan. 15, 17, 22, and 24 on Tuesdays and Thursday nights from 7 to 8:30. Refreshments and networking will begin at 6:30 p.m.
The investments seminars are Jan. 29, 31 as well as Feb. 5 and 7 on Tuesdays and Thursday nights 7 to 8:30. There will also be refreshments and networking at 6:30 p.m.
These seminars are free and open to anyone, but the main purpose of these seminars is to help people who want to start their own business or invest. The seminars will take place in the Chan Shun Centennial Library on the second floor in the conference room.
For more information, contact ENACTUS at sife@swau.edu.
Southwestern Adventist University's student finance office recently released a list of external scholarships available for students. BigSun Scholarship is for student athletes regardless of which sport they participate in. The
Every January excitement spreads across campus, due largely to Southwestern's Annual Hoops Classic. This year will mark its 19th run, drawing basketball players from 50 teams across the United States.
Southwestern students are invited to sign up for the upcoming Floorball intramurals. Floorball is a fast-paced type of indoor hockey, according to Vesa Naukkarinen, chair of kinesiology at Southwestern. It's