Enactus To Host Free Business Seminars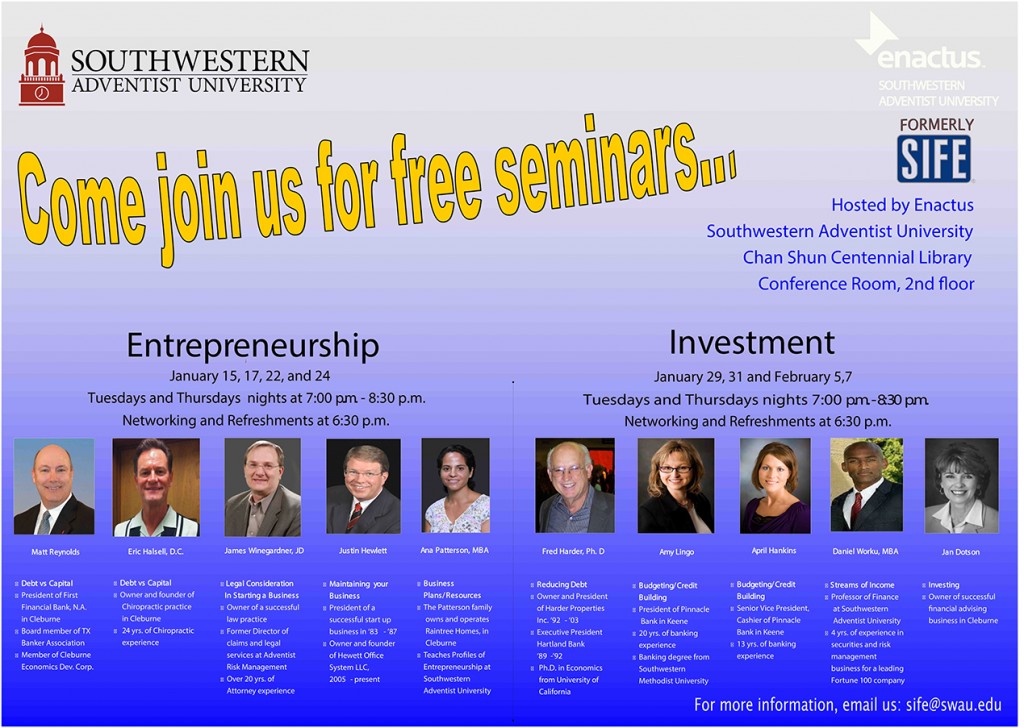 Southwestern's ENACTUS/SIFE team will host free entrepreneurship and investment seminars in January. The entrepreneurship seminars are Jan. 15, 17, 22, and 24 on Tuesdays and Thursday nights from 7 to 8:30. Refreshments and networking will begin at 6:30 p.m.
The investments seminars are Jan. 29, 31 as well as Feb. 5 and 7 on Tuesdays and Thursday nights 7 to 8:30. There will also be refreshments and networking at 6:30 p.m.
These seminars are free and open to anyone, but the main purpose of these seminars is to help people who want to start their own business or invest. The seminars will take place in the Chan Shun Centennial Library on the second floor in the conference room.
For more information, contact ENACTUS at sife@swau.edu.
Fall semester 2011 is coming to an end at Southwestern Adventist University.  After a few weeks of Christmas break, students should look forward to a spring semester of many fun-filled
Fall Week of Prayer is next week and the Spiritual Life and Development team has been working hard to line up the guest speakers for the week. Here is the class
University President Eric Anderson and Loretta Anderson, director of Hopps museum, are among the faculty and staff to greet students at 2012 Handshake for Southwestern Adventist University on Aug. 20.