Music at the Mendenhalls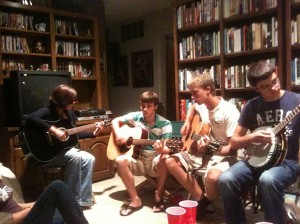 Liz Cortes, Denny James, Devin Grady and Matthew House joined others at the home of Bob and Bev Mendenhall for Communication Department Vespers Friday night. Students went to a variety of locations for department vespers, ranging from faculty homes to the duck pond.
Southwestern's Missions Club prepared "care kits" yesterday at Adventist Community Services' Disaster Relief Depot in Keene. This was the first of many volunteer opportunities to be offered by the Missions
Senior social science/international relations major Sarah Osborn spent last summer as an intern at the United States Embassy in the Republic of Suriname.