Music at the Mendenhalls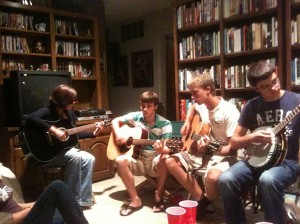 Liz Cortes, Denny James, Devin Grady and Matthew House joined others at the home of Bob and Bev Mendenhall for Communication Department Vespers Friday night. Students went to a variety of locations for department vespers, ranging from faculty homes to the duck pond.
This is the story of how committed Christian workers at Southwestern changed the life of a young student years ago.
It's crunch time at Southwestern Adventist University. Thanksgiving break is from Nov. 19 to 25. There's homework, tests, deadlines, and work keeping people busy, but there are still things to
Daniel Worku was on his way to becoming a billionaire. Then something got in the way: his values. He would have left business in the background, but Southwestern called him