Mimosa Set for This Sunday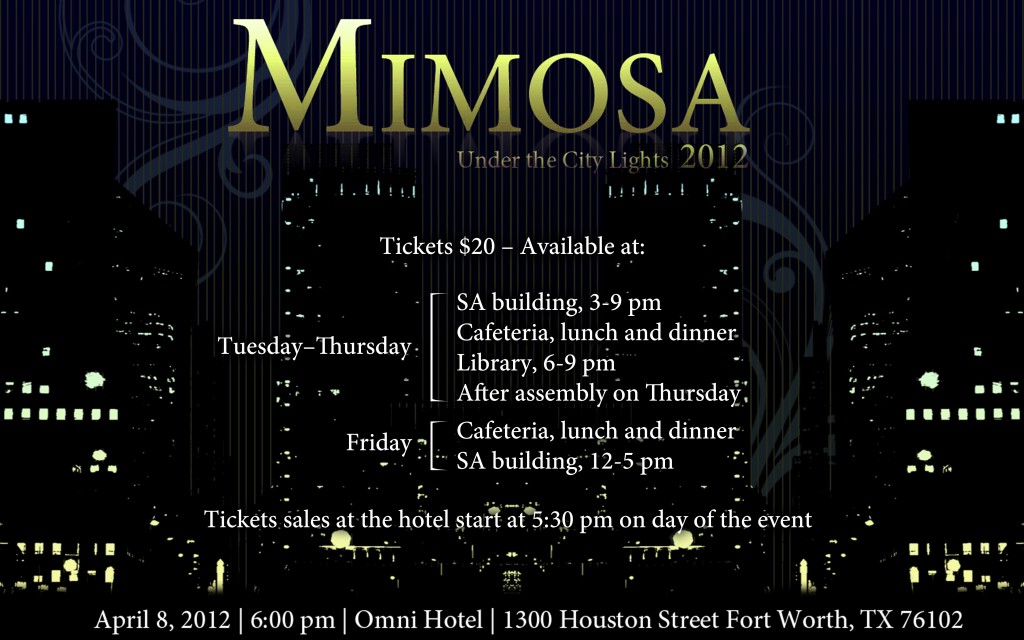 It's not too late to find a date for Mimosa, Southwestern's annual banquet! Mimosa is this weekend, April 8 at 6 p.m.  The theme is "Under the City Lights."  It is taking place at the Omni Hotel on 1300 Houston St. in Fort Worth.
Tickets cost $20 and go on sale today, April 5, at the S.A. building from 3 to 9 p.m., at the cafeteria during meals, at the library from 6 to 9 p.m. and after assembly.  On Friday they can be purchased during lunch and dinner at the cafeteria and at the S.A. building from noon to 5 p.m.  Tickets can also be purchased on location at 5:30 p.m.
This year Mimosa is combined with Southwestern's annual talent show.  Melissa Mancilla, student association social vice president says, "I did this because it's a great form of entertainment and I know students will enjoy it."
Mancilla also says students should not only expect an "awesome talent show, but also delicious food, an ice cream Sunday bar, an unlimited photo booth that immediately prints your pictures, a live jazz band and a great evening with your friends."
Carter BloodCare is coming to Southwestern Tuesday, Oct. 9 from 11 a.m. to 5 p.m. The blood drive will take place in Meadows Gallery in  the Chan Shun Centennial Library.
Southwestern Adventist University in Keene will commemorate the centennial of World War I with an exhibit that features artifacts from the Great War. The display is open April 12 to