Twin Day
In the spirit of Spirit Week, David Knight, vice president for student services and Eric Anderson, University president  observed twin day. Faculty and staff across campus were thereafter confused by the two, not sure if they were talking to Anderson or Knight. Today was International Day, and Friday is being observed as Class Day. Freshmen are encouraged to wear white, sophomores black, juniors gray, seniors green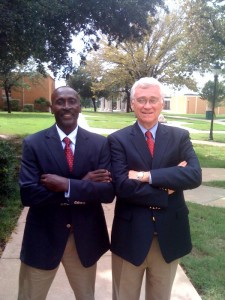 grad students and ESL blue, and faculty red.
A student of Southwestern Adventist University has taken her leave due to breast cancer. But even now continues to make an impact on people's lives. Maria Maciel, a sophomore dentistry and
Donna Berkner, Education's newest professor, feels she "always has had a heart for Adventist education."
In high school, Jae-Min Park felt he wanted to be a doctor but wasn't sure if it was the right career for him. His parents inspired him to study medicine.