Homeless Art Show Scheduled for Oct. 12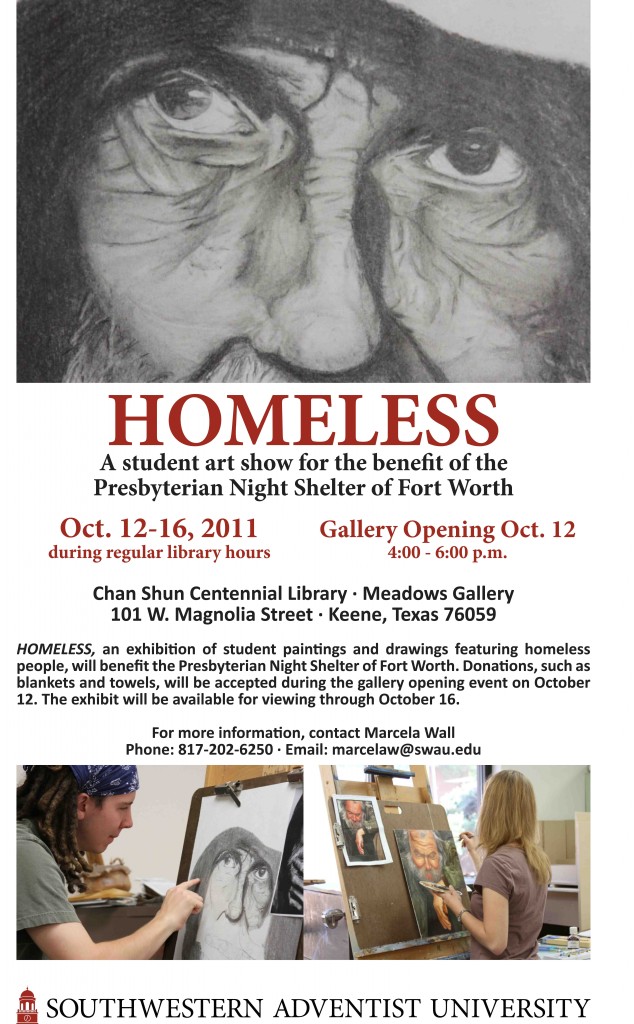 A student art show called "Homeless" will be on display on campus beginning Oct. 12 for the benefit of the Presbyterian Night Shelter of Fort Worth.  Artwork will depict different faces of homeless people. The goal is to raise people's awareness of homelessness, and to tell them what they can do to help.  During this exhibit, people are encouraged to bring twin-sized bed sheets and towels to donate to the shelter.
The exhibit will be on display at the Chan Shun Centennial Library in the Meadows Gallery.  The gallery opening is on October 12 from 4 to 6 p.m.  Erin Lynch, a representative of the Presbyterian Night Shelter, will be there to answer any questions about the shelter, or about homelessness.  The exhibit will be available for viewing from October 12 to 16.
The sophomore class at Southwestern won the PowderPuff Football championship, Sept. 15. Freshmen came in second place. The team, shown above, was coached by Amofah Brobbey, far left and Francisco
The LIFE Sabbath school service meets every Saturday at 10 a.m. in Evans Hall Auditorium.  The acronym LIFE stands for "Living In Faith Everyday." Presenters for each topic are faculty
Every spring break for 18 years Southwestern's nursing department has gone to the Dominican Republic for their mission trip. Several nursing students are returning this year, along with their instructors.